SPECIAL GUEST: Author Rie McGaha Writes Fantasy That Keeps You Up
First of all, don't call her Grandma—it's Nana. Now we've got that out of the way, how many nanas do you know ride motorcycles and…(eek!) write romance novels? With 35 grandkids, Rie could teach all of us a thing or two about love and romance. Find out more about this very interesting lady and her new release, Calen. Let's get started!
Tell us about yourself. 
I live in the greatest state in the Union, Oklahoma. And in the greatest part of Oklahoma, Pushmataha County. Short, mild winters, long hot summers, lots of rivers, lakes, mountains and trees. I was raised in Humboldt County of northern CA with the ocean on the west and the mountains on the east, so I have a great love for the sea and nature and even though there's no ocean nearby, the landscape here is beautiful. We go out on the lake in our boat for long lazy days of tubing, swimming, and bbq-ing.
What is the most romantic gesture you've ever received?
When my husband came up behind me, slid his hands down my arms, and whispered, "Go sit down, I'll wash the dishes."
What was the nicest comment or most interesting question you've received from a reader?
I got an email once from a young man who was in his mid-20′s and a newlywed. He and his wife were having some problems in the bedroom. Apparently she wasn't as into sex several times a day as he was. I told him I couldn't give him advice in that area having never spoken to his wife, and he said (sounding quite exasperated), "Don't you do all that stuff you write about?" After much laughter I told him if I did all that stuff, I'd never have time to write about it!
What do you do for fun?
I ride motorcycles. I belong to The Patriot Guard and being able to stand between families of the fallen and stupid protesters is an awesome feeling.
What are your pet peeves?
Oh my, do you really want to go there? People who can't spell gets to me the most. There is a difference between "there" and "their."
And stupid drivers. There is this lever on the left side of the steering column called a signal indicator, and it lets people behind you know you are about to slam on your brakes and make a turn. I thought it was an older invention, but since no one seems to know about it, perhaps it's new and they haven't heard of it yet.
What are your favorite types of movies to watch?
I love romantic comedies like Catch and Release, The Proposal, Just Like Heaven, etc.
What types of books are on your bookshelf at home?
Everything from religion to sci-fi. My daughter reads like it's her last chance in this life, and we have so many books the shelves are overflowing.
What would you want for your last meal?
A rib eye steak, medium well, with a grilled lobster tail, steamers and cannoli, with a nice bottle of wine recommended by my friend William Maltese.
Who should play you in the movie about your life and why did you choose this person?
Kathy Bates. She seems to have a lot of the same traits I do.
Which TV show(s) can you absolutely not miss every week?
Justified! Oh my gosh…I don't do younger men but I'd make an exception for Timothy Olyphant. I never miss Criminal Minds either, and I love the sitcoms. The Big Bang is one of my faves.
What dish, when you prepare it, has everyone asking for seconds?
Everything I make. I'm an excellent cook, and make everything from scratch. Last night I made two large dishes of green chili enchilada casserole and there were no leftovers!
Why is May 14th so special this year?
So glad you asked! May 14th is the release date of Calen, the first book in the My Soul To Keep Trilogy out with Silver Publishing. My friends GA Hauser and Stormy Glenn have teamed up with me for a blow out blog blast. On May 14th each of us will have select titles available for only 99 cents on that day only. We'll also be appearing together on Blog Talk Radio with hostess Marsh Cook, followed by a chat on my Yahoo group Erotic Promo.  We've got tons of things to give away, including t-shirts, bookmarkers, e-books, posters and other great stuff. It's a Blog Blast you won't want to miss.
Commenters on this blog are eligible to win prizes, too, so leave a comment below.
Rie, thank you for your generosity! "Free" is a beautiful word, and those are some great prizes. I appreciate you doing that for the readers. Would you share a blurb and an excerpt from Calen? 
I'd love to!
Blurb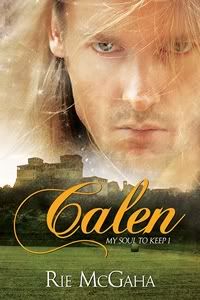 When Calen MacLeod begins having dreams of an ethereal beauty who beckons to him, he passes it off as just having an itch he hasn't scratched in a long time. But when he leaves on a journey to find her, following the directions she's given him in his dreams, he begins to doubt his sanity. And when he finds himself high in the Mackinaw Mountains in a secret fortress with unicorns and a pink and white castle, surrounded by women, each one more beautiful than the next, it's a fantasy no man would want to wake up from. But Arianna is the only woman for Calen.
The women of the Fortress have lived in peace, hidden away from the humans who tried to annihilate them all. But now a 500-year-old demon is out to destroy the women's matriarch, Ariella, and he'll stop at nothing to complete his mission. When Calen MacLeod shows up, he throws a wrench into Damon's plans. Never let it be said Damon isn't ready for anything, but when he kidnaps Arianna and takes her to modern day San Francisco, is he ready to meet Calen, who will stop at nothing to save his ladylove?
Excerpt
At a stream, he stopped and kicked off his boots, stripped and carried his clothing with him as he waded into the cold water. As he made his way upstream to a pool damned by fallen logs, the water inched up his body, causing gooseflesh to rise on his skin. When it reached his stomach, he dove under and came up gasping for breath. He used the lye soap he'd pilfered from the laundress and washed his clothing, tossing each article onto the bank with a wet plop. Then he began washing himself.
She sat on a log at the edge of the trees, watching him, fascinated by his body. His muscles rippled when he walked. With well-defined thighs and calves, his high, tight behind appeared much whiter than the rest of him, and she licked her lips. Watching as he washed himself, she imaged those big hands roaming over her body in much the same way, even though she didn't understand the feelings going on inside her where this man was concerned.
She knew what a man was, of course, though he was the first mortal male she'd ever seen with her own eyes. The males of her kind had been annihilated so many years ago, she had nearly forgotten them altogether. Since that time only two women had dared leave the safety of the Fortress to be with mortal men, and now, both were dead. Arianna guided this man now because his life had been entrusted to her, even though she wasn't supposed to be watching him this way, or be developing feelings for him, either. She wasn't sure exactly what those feelings were, but the need to touch him was nearly overwhelming.
Beautiful, she thought, and now knew why those who had chosen to leave the Fortress for a mortal had done so. She would leave for this one, even though she couldn't say why. But the task ahead of them both was much more important than what she wanted for herself. Nevertheless, she would take what she could get.
Ooh, that excerpt piqued my interest. Calen sounds like quite a catch. Before you run off, please provide links where readers can connect with you online and find out about your other books.
Rie McGaha's Links:
Website: www.riemcgaha.com
Facebook: http://www.facebook.com/RieMcGaha
Twitter: http://twitter.com/Rie_McGaha
My Space: http://www.myspace.com/novelsbyrie
You Tube: http://www.youtube.com/NovelsByRieMcGaha
Biker Or Not: http://www.bikerornot.com/natenrie
Manic Readers: http://www.manicreaders.com/RieMcGaha/
The Pagan & The Pen Book Reviews: 
http://thepaganandthepenbookreviews.blogspot.com/
Man Of The Month: http://spotlightauthor.blogspot.com/
Blogs:
http://anauthorstale.blogspot.com/
http://sizzlingreleases.blogspot.com/
http://riemcgaha.wordpress.com/
Causes:
http://authorofferings.blogspot.com/
http://lovefurbabies.chipin.com/rescued-animals
Thank you for stopping by and being my special guest. Well folks, do you have any questions or comments for Rie?  Post them below so you have a chance to win some of the great stuff she mentioned above (t-shirts, bookmarkers, e-books, posters). She'll be stopping in from time to time today to respond to your comments. 
____________________________________________________________________________________________
At the top right is the schedule of upcoming guests. Subscribe to this blog or join me on Facebook so you don't miss future interviews with special guests.