SPECIAL GUEST Romance Author Deatri King-Bey
Today my special guest is author and editor Deatri King-Bey. Today she's got her author hat on and telling us about her latest release in the Write Brothers series, Tease. Tease is also available as part of a box set with the rest of the books in the series. Let's get started!
Tell us about yourself.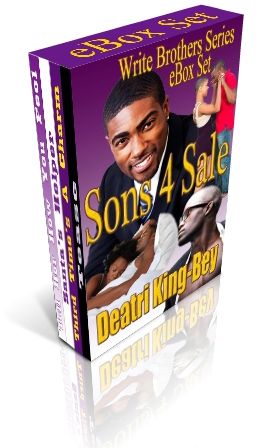 I started in the publishing industry as a developmental editor at Third World Press, Inc. a little over a decade ago. Their focus was nonfiction, so I moved onto freelance editing for several publishing houses. I'm also an avid reader and multi-published, award winning author with fifteen full length novels under my belt. I write romance and women's fiction under my name and dangerously-sexy suspense under the name L. L. Reaper. On a personal note, I have three fantastic daughters who have given me the three greatest grandchildren ever. I also married my hero over twenty-five years ago and look forward to when we can both retire and can be the annoying older couple in the grocery store fussing over which bottled water brand to purchase.
What types of books are on your bookshelf at home?
Sci-fi, fantasy, romance, mystery, suspense… Okay, everything except horror.
What is your greatest accomplishment as an author so far?
Completing the Write Brothers series.  I write romance, but not traditional romance or series romance. I wanted to step out of my comfort zone and knew it would be difficult to complete a series in a year along with my other deadlines. All I can say is I truly admire authors who write series romance. Kudos to you guys! I also tried something a little different marketing wise. The readers decided the order of the books. That was FUN! This whole experience has been truly rewarding.
What does the area where you write look like?
I like to write in complete silence. My children and now grandchildren have learned to leave me alone when I'm writing unless someone is bleeding (smile). I usually start out with pen and paper, then move on over to the computer to type it up.
What has been your biggest mistake as an author?
I was lucky because I started in the industry as an employee at a legitimate publishing house, so I knew how things were supposed to work by the time I entered the game as an author. What shocked me was how many crooks are out there. Fake agents, fake editors, fake publishers, fake cover designers… all ready to take advantage of an author's dreams. It's truly sad and also one of the reasons I wrote my nonfiction title Become A Successful Author.
Did you always want to be a writer? If not, what else did you want to do?
I have always been a story teller and avid reader. My family is the same way. I didn't realize I wanted to write. I wanted to be a developmental editor (which I am). One day I was in the store with my sister complaining about the numerous bad books I'd been reading when she told me to stop complaining and write what I want to read. Next thing you know, I was writing and haven't stopped since.
What was the nicest comment or most interesting question you've received from a reader?
I consistently receive thanks from readers for putting a dose of realism into my romances. I've touched on Bipolar disorder, cancer, dark skin vs light skin, racism, physical and emotional abuse… without forgetting this is a romance and we all deserve our happily ever after.
Is there such a thing as too much sex in a romance novel? Explain.
It would depend on if the sex works with the story. Don't force additional sex scenes into the story for the sake of being HOT. I'd rather have a good plot than a bunch of sex scenes.
Which of your books has sold the best so far, and why do you think that is?
Whisper Something Sweet. Though romance is fantasy, I put a good dose of realism in my novels. Unfortunately, too many women have dealt with unfaithful significant others and/or been in physically abusive relationships or know someone who has. The emails I continually receive about Whisper Something Sweet are truly humbling. The topics are heavy, but I was able to lighten the mood. So much so that it won the 2008 Emma for Best Steamy Romance of the Year. This is my only erotic title.
What inspired you to write the Write Brothers series?
I'd been contemplating writing a series romance, but not ready to take the plunge. While on the phone with my mom, my grandson was playing with the puppy and BAM! The beginning of Tell Her How You Feel (the first book of the Write Brothers series) was born. Yep, it's that simple to me. Anything can start a plot. I just set the pen to paper and let the characters take over.
With the release of the final book, I'm also releasing an eBox set of all four titles called Sons 4 Sale. Here is a breakdown of the series.
SONS 4 SALE (Write Brothers Series eBox Set): If Gloria Write hears "There are no good Black men…" one more time, she'll scream. She has four sons who fit the bill and not one is married.  Desperate times call for desperate action. Gloria sets out to ensure her sons marry. This box set includes all four Write brother novels.
The eBox set is available through Amazon and Barnes & Noble for only $7.99.The individual novels are also available for $2.99 each. The purchase links are at the bottom of this interview.
TELL HER HOW YOU FEEL: Latifah Azimi discovered "too good to be true" literally meant "too good to be true" the hard way. Lesson learned, she swore never to make that mistake again. Then "all too right" Austin Write came along, tempting her to believe in love again.
The impossible happened—control freak Austin Write lost control and fell in love. Unfortunately, the object of his affection has good cause to be leery of love and him. With love and affection, Austin plans to show Latifah what they can have isn't too good to be true, but their dream come true.
SANTA'S HELPER: Marybeth Write is a kindergartner on a mission many deem impossible—to see her dad marry their neighbor by Christmas. To accomplish this mission, she'll have to go straight to the top—her grandmother and the big guy himself—Santa! A kid's gotta do what a kid's gotta do.
Five years ago when District Attorney Houston Write lost his wife to breast cancer, he began going through the motions of life without truly living. Then choreographer Sabrina Ingles moved in across the street and reignited a fire within him he thought was long gone. Now Houston is ready to live again and give his child the mother she deserves.
When Sabrina Ingles' marriage went down in flames, she swore off relationships and the trouble that accompanies them. But how could she shield herself against the most adorable little girl ever? Marybeth quickly became a part of Sabrina's heart as Sabrina's undeniable attraction to Houston grew stronger. Guarding her heart against the type of man fantasies are jealous of has become a full-time job, but she refuses to be burned again.
THIRD TIME'S A CHARM: Fool me once, shame on you. Fool me twice, shame on me.
Twice a fool for love, Desiree Young learned her lesson a little late, but she'll never forget it—Just say no to romantic relationships! Work has become her life, and she honestly loves every minute of it until…Until nepotism rears its ugly head, and she may lose everything she's worked so hard to the most irritatingly-sexy grouch ever.
Two failed marriages have taught Dallas Write a valuable lesson—There is no such thing as happily ever after. Work is dependable, and he loves what he does. After his beloved great uncle leaves his business to him, Dallas must give up his true love—being a master chef—to learn and run the business. Dallas lost both of his businesses to divorce and won't allow his uncle's business to be taken over by an outsider—no matter how intelligent, gorgeous and perfect for him she may be.
Two work-aholics, burned twice by love. Well, you know what they say: Third Time's A Charm.
TEASE: After Eva caught her fiancé in bed with her cousin, she swore she'd never be played for the fool again. Now the ultimate bed-hopper—Tyler Write, has set his sights on her and she's having difficulty resisting him.
Tyler can have any woman except the one he truly wants—Eva Simpson. Smooth lines and sweet talk won't work with her. To have a chance at Eva's heart, he'll have to show her who he really is.
Excerpt from TEASE
Heart rate increasing, Eva prayed she didn't trip and make a spectacle of herself as they approached Tyler. All of Gloria's sons were the epitome of tall, dark and handsome, but Tyler… No wonder women found him so irresistible. Yep, she'd heard the rumors of his conquests in bed. One of the women in her circle was proud he'd chosen her, even if only for one night. But what impressed her more was how he'd treated her friend like a queen, made her feel special, like there was no other woman. This man is dangerous!
Dangerous to others, not her. Call her selfish and a prude, but she didn't believe in sharing men or bed-hopping.
They rounded the table and approached him from behind.
Uncle Joe placed his hand on Tyler's shoulder. "Tyler, this is Eva Simpson, our hostess for the evening."
Tyler turned and stood with his hand held out. "Pleased to meet you."
"The pleasure is all mine." Literally. She amended her previous thought. This man is dangerously sexy! Up close and personal, she completely understood why women threw themselves at him. Other women, not her. But that didn't mean she couldn't dream, and boy did she see some doozies in her near future. "Do you mind if I sit?"
"Not at all." A complete gentleman, Tyler pulled out a chair for her and gently pushed it in as she sat.
"Thank you."
"I need to get on back to the kitchen." Uncle Joe walked off.
"I wanted to thank you personally for helping us switch over to solar energy. The entire Write family has been so generous. I'll never be able to repay you." She spotted her multi-millionaire parents heading for the coatroom. They hadn't given one cent, one minute of their time or had one good thing to say about Next Generation.
"I wish I could do more." He leaned toward her slightly, and whispered, "Is something wrong?"
"Honestly, yes, but this is our night. All that matters is getting the word out about your company and raising funds for my school."
These titles are available at Amazon and Barnes & Noble. You can also visit me at http://DeatriKingbey.com.
Delaney, I wanted to thank you for allowing me to visit your blog today. You are a complete sweetie.
I loved having you, Deatri. Thanks for stopping by and being my special guest! Readers, leave your questions and comments for Deatri below. 
________________________________
Take a look at the schedule of upcoming guests. Subscribe to this blog or join me on Facebook so you don't miss future visits by special guests.